This page: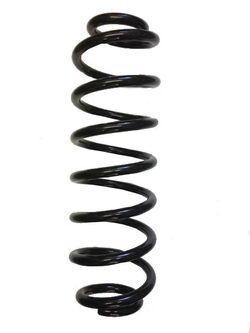 Passat 3B rear spring replacement
Broken coil springs can be extremely dangerous if left unattended. Emergency braking or a sudden change in steering input (avoiding an obstruction in the road for example) could cause your vehicle to react in an adverse and dangerous manner.
This guide will give you step by step instructions on how to change a rear coil on a Volkswagen Passat 3B.
Please note that this procedure is for experienced persons only and should not be attempted without the appropriate equipment.
Buy Genuine Volkswagen Coil Springs
Support the vehicle correctly and remove the road wheel

Once the wheel is off you'll need a 18mm spanner and socket to remove the lower arm bolt

Support the lower arm but do not compress the spring. Remove the lower arm front bolt

Remove the spring and ensure the top and bottom spring plates come out along with any broken parts

Ensure the coloured marks on the new spring are the same as the one you remove. We can determine the correct parts for you from your chassis number and PR codes

Ensure the top and bottom mounts are fitted, check the spring is seated correctly and raise the lower arm (with the appropiate equipment) until the bolt holes align

Torque up to the correct specification. We are happy to provide details for your indivdual model if we supply the parts

Refit the wheel and torque up the wheel nuts

Disclaimer

The "How to" information on this site is for guidance only. Do not attempt a repair if you are not appropriately trained or do not have the correct tools or equipment to conduct a repair safely.

VWGenuineParts.co.uk takes no responsibility and cannot be held accountable for any loss, injury or damage however caused. No claim can be made against us for loss of earnings, inconvenience or any other incurred expenses. Unless otherwise stated, all contents are copyright ©