This page: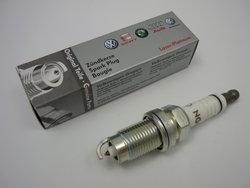 Changing spark plugs - VW Golf Mk5
A "How to guide" to replacing your spark plugs on a Mk5 Golf. Model shown is a BWA VW Golf GTi engine.
Other Volkswagen engines with indivdual ignition coils follow a similar procedure.

Watch our "How to" guide to replace your MK5 Golf spark plugs video or scroll down for the static step by step guide.
To remove the engine top cover...

Unclip the Air Mass Meter plug

Unclip the pipe at the back of the cover

Remove the front intake pipe. Lift the top cover off, checking that the rubber fixing points stay in place

Carefully lever each coil up by a small amount at a time

Ensure that the coils are level with each other as they come up

Unclip each coil from the loom plugs

Remove the plugs with a 5/8th (small) plug socket.

Due to the depth of the plug hole and the risk of cross threading, initial start the plug off by using rubber pipe.

Refit in the reverse order.

The "How to" information on this site is for guidance only. Do not attempt a repair if you are not appropriately trained or do not have the correct tools or equipment to conduct a repair safely.

VWGenuineParts.co.uk takes no responsibility and cannot be held accountable for any loss, injury or damage however caused. No claim can be made against us for loss of earnings, inconvenience or any other incurred expenses. Unless otherwise stated, all contents are copyright ©
Related Links: VW Golf Mk5 Parts | Brake pads and discs replacement Golf Mk5 GTi - Front | Key fob remote battery replacement | Air Filter replacement VW Golf Mk5 | Auto door locking/unlocking set up