This page: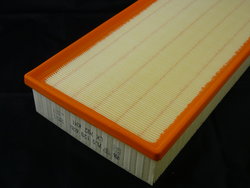 Changing an Air Filter - VW Golf Mk5
A "How to guide" to replacing your air filter on a Mk5 Golf. Model shown is a BWA VW Golf GTi engine.

Other Volkswagen petrol Mk5 Golf engines follow a similar procedure.
Watch our "How to" guide to replace your MK5 Golf air filter video or scroll down for the static step by step guide.
Remove the engine top cover...

Unclip the Air Mass Meter plug

Unclip the pipe at the back of the cover

Remove the front intake pipe. Lift the top cover off, checking that the rubber fixing points stay in place

Place the top cover face down, protecting it from damage. Remove the 8 philips screws as marked in the picture

Open the two parts of the housing. One side is hinged. The filter is now visable. Remove it and replace with genuine Volkswagen Parts. Clean the inside of the housing

Refit in reverse order

The "How to" information on this site is for guidance only. Do not attempt a repair if you are not appropriately trained or do not have the correct tools or equipment to conduct a repair safely.

VWGenuineParts.co.uk takes no responsibility and cannot be held accountable for any loss, injury or damage however caused. No claim can be made against us for loss of earnings, inconvenience or any other incurred expenses. Unless otherwise stated, all contents are copyright ©
Related Links: Brake pads and discs replacement Golf Mk5 GTi - Front | VW Golf Mk5 Parts | DPF Filter regeneration | Spark Plug replacement VW Golf Mk5 | Wiper blades - changing