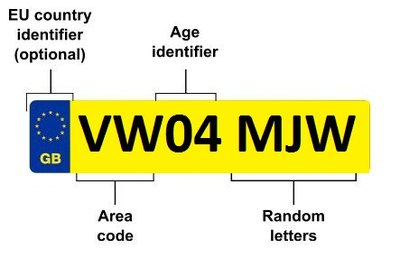 Vehicle Registration Letters
A brief history of the registration plate
1903 to 1932
The first registration (number) plates were issued in 1903 and ran until 1932 in the format of one or two letters followed by a number ranging from 1-9999. The letter/s identified the issuing area office.
1932 to 1963
As the original combinations ran short an 'extention' scheme was introduced. This involved plates with 3 letters and 3 numbers between 1 & 999.
1963 to 1982
1963 saw a series of 3 letters (the area code), 3 numbers (random) and a letter on the end which showed the year. Example: TTW 344W
1983 to 2001
Similar to the 1963 set up but in reverse. The first letter was the year, the next 3 numbers were random and the final three letters showed the county. Example: A289 KWU
2001 onwards
The current layout starts with the two area code letters followed by two numbers which denote the year. The numbers change each March and September. The final three letters are selected by the DVLA. Unless it changes, the latest plates will run until 2049.
Suffix 1963>1983
PreFix 1983>2001
Current 2001>
A
FEB-1963
>
DEC-1963
A
AUG-1983
>
JUL-1984
51
SEP-2001
>
FEB-2002
B
JAN-1964
>
DEC-1964
B
AUG-1984
>
JUL-1985
02
MAR-2002
>
AUG-2002
C
JAN-1965
>
DEC-1965
C
AUG-1985
>
JUL-1986
52
SEP-2002
>
FEB-2003
D
JAN-1966
>
DEC-1966
D
AUG-1986
>
JUL-1987
03
MAR-2003
>
AUG-2003
E
JAN-1967
>
JUL-1967
E
AUG-1987
>
JUL-1988
53
SEP-2003
>
FEB-2004
F
AUG-1967
>
JUL-1968
F
AUG-1988
>
JUL-1989
04
MAR-2004
>
AUG-2004
G
AUG-1968
>
JUL-1969
G
AUG-1989
>
JUL-1990
54
SEP-2004
>
FEB-2005
H
AUG-1969
>
JUL-1970
H
AUG-1990
>
JUL-1991
05
MAR-2005
>
AUG-2005
J
AUG-1970
>
JUL-1971
J
AUG-1991
>
JUL-1992
55
SEP-2005
>
FEB-2006
K
AUG-1971
>
JUL-1972
K
AUG-1992
>
JUL-1993
06
MAR-2006
>
AUG-2006
L
AUG-1972
>
JUL-1973
L
AUG-1993
>
JUL-1994
56
SEP-2006
>
FEB-2007
M
AUG-1973
>
JUL-1974
M
AUG-1994
>
JUL-1995
07
MAR-2007
>
AUG-2007
N
AUG-1974
>
JUL-1975
N
AUG-1995
>
JUL-1996
57
SEP-2007
>
FEB-2008
P
AUG-1975
>
JUL-1976
P
AUG-1996
>
JUL-1997
08
MAR-2008
>
AUG-2008
Q
Special/temp import
Q
Special/temp import
58
SEP-2008
>
FEB-2009
R
AUG-1976
>
JUL-1977
R
AUG-1997
>
JUL-1998
09
MAR-2009
>
AUG-2009
S
AUG-1977
>
JUL-1978
S
AUG-1998
>
FEB-1999
59
SEP-2009
>
FEB-2010
T
AUG-1978
>
JUL-1979
T
MAR-1999
>
AUG-1999
10
MAR-2010
>
AUG-2010
V
AUG-1979
>
JUL-1980
V
SEP-1999
>
FEB-2000
60
SEP-2010
>
FEB-2011
W
AUG-1980
>
JUL-1981
W
MAR-2000
>
AUG-2000
11
MAR-2011
>
AUG-2011
X
AUG-1981
>
JUL-1982
X
SEP-2000
>
FEB-2001
61
SEP-2011
>
FEB-2012
Y
AUG-1982
>
JUL-1983
Y
MAR-2001
>
AUG-2001
12
MAR-2012
>
AUG-2013


Related Links: Contact Us | VW Genuine Parts | Model Reviews