This page: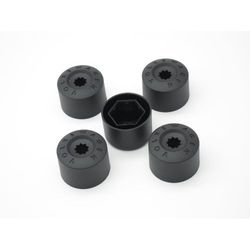 Removing wheel nut caps
This "How To" guide will show you how to remove or change the black plastic caps from your Volkswagen wheel nuts. It sounds simple but you'd be surprised how many people don't know about the wire hook removal tool!
Watch our "How to" change your Volkswagen wheel nut caps video or scroll down for the static step by step guide.
Buy Genuine Volkswagen wheel nut covers
Locate the wire removal hook tool from the spare wheel insert or the tool wrap if no spare wheel is fitted

The tool looks like this picture

Insert the tool through the centre of the wheel nut cover and push it to the edge before pulling towards you

If locking wheel nuts are fitted - one of the nut covers on each wheel will have a round inner profile.

Note If you are changing the nut covers because they have turned white, please note this is not a manufacturing fault and not covered by the warranty - it is caused by bleaching from wheel acid used in car washes

Disclaimer

The "How to" information on this site is for guidance only. Do not attempt a repair if you are not appropriately trained or do not have the correct tools or equipment to conduct a repair safely. Your product may differ from that shown.

VWGenuineParts.co.uk takes no responsibility and cannot be held accountable for any loss, injury or damage however caused. No claim can be made against us for loss of earnings, inconvenience or any other incurred expenses. Unless otherwise stated, all contents are copyright ©
Related Links: VW Genuine Parts | Bookmark our site on your iPhone | Engine oil - topping up | VW Engine/Chassis & Colour Identification | Wiper blades - changing