This page: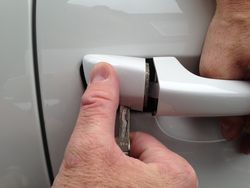 Use an emergency key to open your VW door
If your VW engine battery goes flat or there's an issue with the remote you'll need to manually unlock the doors. On initial inspection it's not easy to see how to as there's no visible barrel for the key to go into. This guide will show you...
If you have a Passat, Touareg or Phaeton the key blade isn't obvious either. You can use our finding your VW emergency key guide to help
We also have a guide to replacing your Volkswagen key remote battery
Buy genuine Volkswagen replacement key batteries
Watch our "How to" guide to open your VW with an emergency key or scroll down for the static step by step guide.
There are two types of key - either one with a physical blade or ones where the complete case pushes into the ignition (common on Passat and Touareg).

On this style of key, locate the button on the side and press in while pulling on the keyring attachment

Pull the plastic key out of the case

The handle on the drivers side looks as if it has no barrel but it is hidden under the cover

Locate the notched cut out under the drivers door handle

Insert the key and gently lever while holding the cap at the same time (to prevent it flying off and getting damaged). You may need to pull the handle to release it completely

Use the key to manually unlock the door. If the engine battery has power the alarm will go off. Insert the key into the ignition to silence it

Clip the cap back on to the door handle

Disclaimer

The "How to" information on this site is for guidance only. Do not attempt a repair if you are not appropriately trained or do not have the correct tools or equipment to conduct a repair safely.

VWGenuineParts.co.uk takes no responsibility and cannot be held accountable for any loss, injury or damage however caused. No claim can be made against us for loss of earnings, inconvenience or any other incurred expenses. Unless otherwise stated, all contents are copyright ©
Related Links: Auto door locking/unlocking set up | DPF Filter regeneration | Time clock setting - Golf/Passat/Tiguan/Touran/Scirocco | VW dash warning lights - what they mean | Finding your emergency Key