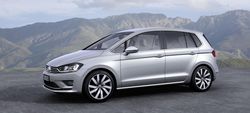 Volkswagen Golf Plus 2014
Welcome to the latest product in the Golf range. Currently known as the Golf Sportsvan this is the replacement for the Golf Plus. It's unlikely it will be in the UK market under this title, official naming will be confirmed closer to the launch.
It's expected to be on sale from the middle of 2014, having made it's debut at the Frankfurt Motor Show in early September 2013.
Facts and Figures
The new Sportsvan is 134mm longer than the Golf Plus and still 83mm longer than the MK7 Golf, coming in at 4338mm. The wheelbase has also been extended from the current Golf, 48mm longer to be exact, which brings it to 2685mm. The enlargements don't stop there, the Sportsvan is 80mm wider and 126mm higher than the MK7 giving it a more spacious interior. Bigger is definitely better!
The rear bench seats can be moved backwards or forwards by up to 180mm giving the Sportsvan a boot capacity of anything between 498 litres and 585 litres depending on where you position the seats. If you fold the rear seats down it will give you 1512 litres of space and with the optional folding passengers front seat you can have a load space up to 2484mm long.
The new Sportsvan comes with a choice of four different 1.4 turbocharged petrol engines with either 85, 110, 125 or 150ps. For the people that prefer diesel over petrol you can get a 1.6 turbo diesel engine with either 90 or 110ps on the BlueMotion model or a 2.0 turbo diesel engine with 150ps. All engines come with Stop/Start and battery regeneration systems. All engines are available with a DSG gearbox option except for the 1.4 85ps model.
Volkswagen have worked hard on the safety aspects of the new sportsvan with updated bodyshell and features such as an automatic post-collision braking system, which automatically brakes after a collision to minimise the chance of a second impact. Another handy new system to help with the increased size is the Blind Spot Monitor which monitors the areas behind and to the sides to make it easier and safer to reverse from a parking space.
More news as we get it.
Related Links: Golf Mk7 | Volkswagen Golf Mk7 Estate | | 'PS' explained | Future Technology & Innovation