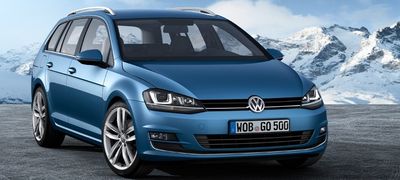 Volkswagen Golf Mk7 Estate
Launched at the 2013 Geneva Motorshow, the new Mk7 Golf Estate can be ordered from July with expected delivery in October.
Details are scarce at the time of writing but the all-wheel-drive 4Motion is said to be returning to the line up. We're yet to hear whether it will appear in the UK market though.
What is certain is that the Bluemotion model will offer 85.6 mpg and produce just 87 g/km of emissions. At the current bench marking bands, the road tax will be free.
The sportier look is achieved by clever shaping of the C and D pillars (A is the windscreen pillar and working back) and the new Golf estate is lengthened by 307mm to 4562mm.
Boot space is also increased to 605 litres from the previous 505 litres with the seats up and a cavernous 1620 litres with the rear seats tucked away.
More details here as we get them.
Related Links: Volkswagen Golf Mk7 | Volkswagen Golf Mk7 BlueMotion | Volkswagen Golf Mk7 GTD | Volkswagen Golf Mk7 GTi | 'PS' explained