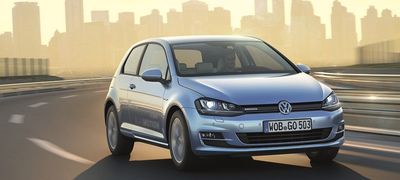 Volkswagen Golf Mk7 BlueMotion
There must be a limit to the number of mpg's you can squeeze out of a combustion engine? It's not a question that seems to be troubling Volkswagen. Introducing the Mk7 Golf BlueMotion.
Available to order from May 2013 with first deliveries in August, the 1.6 TDi 110bhp 16 valve 4 cylinder engine is currently the lowest diesel powered emissions vehicle in mass production in the world. Turning out just 85 g/km it produces just 10 g/km over Mayor Boris Johnson's ambitious plans for inner London in 2015. If you consider that the 2007 Golf Bluemotion held the record at the time with 119 g/km it's difficult to imagine that Volkswagen won't meet or exceed the new limits by then.
Fuel economy
With 15% better fuel economy than its predecessor, the new Bluemotion can return 88.3 mpg. With a 50 litre fuel tank a whopping 970 miles could be possible, in theory. In real life driving, with an average annual mileage of 10,000, you'd be visiting your local fuel station just once a month. Not so good if you collect reward points, but with no road tax to pay there is adequate compensation.
How is it done?
Extra low rolling resistance tyres running a high pressure, long gear ratios from the 5 speed manual gearbox, stop/start technology, battery regeneration and the most aerodynamic body in its class all aid the Golf Bluemotion achieve these incredible stats.

Prices and trim specs coming soon...
Related Links: Volkswagen Golf Mk7 GTD | Volkswagen Golf Mk7 GTi | Volkswagen Golf Mk7 | Volkswagen Golf Mk7 Estate