This page: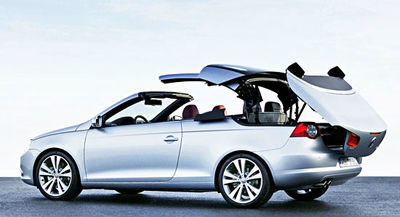 Lubricating the roof seals on a VW Eos
A "how to" guide on servicing the roof seals on a VW Eos.
The softness of Eos roof seals is vital for the prevention of water ingress. This guide will show you how to clean and lubricate the seals.
Buy the VW universal tool (as seen in guide)
Disclaimer
The "How to" information on this site is for guidance only. Do not attempt a repair if you are not appropriately trained or do not have the correct tools or equipment to conduct a repair safely. Your vehicle may differ from that shown.
VWGenuineParts.co.uk takes no responsibility and cannot be held accountable for any loss, injury or damage however caused. No claim can be made against us for loss of earnings, inconvenience or any other incurred expenses. Unless otherwise stated, all contents are copyright ©
| | |
| --- | --- |
| | Insert special tool into top roof rail and draw it along the full length of the rail, lifting out any dirt or debris. |
| | Sparingly apply lubricant along the seal then gently massage ensuring an even spread. Carry out same process for every stage listed below. |
| | Tilt glass sunroof and clean along the seal and underside of glass. |
| | Turn ignition on and lower roof to half way point. To stop, turn off ignition and remove key. Lubricate seals along the back edges of both sections of roof. WARNING - REMOVE KEYS FROM VEHICLE TO PREVENT ACCIDENTAL ACTIVATION OF ROOF. |
| | Lower roof completely then clean and lubricate along the section of chrome trim. |
| | While roof is down lubricate the rubber seal along the top of the windscreen . |
| | Turn ignition on and raise roof into position shown. Turn off once in position and remove key from ignition. WARNING - REMOVE KEYS FROM VEHICLE TO PREVENT ACCIDENTAL ACTIVATION OF ROOF |
| | Clean along boot lid seal. |
| | Ensure the full length of the seal is cleaned. |
| | Lubricate as necessary. |
| | Massage lubricant into seal and repeat the complete procedure every 8 weeks. |