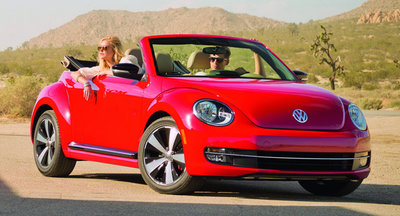 Volkswagen Beetle Cabriolet
New Volkswagen Beetle Cabriolet
The new Beetle cab is now open for ordering and will arrive with customers in early Spring 2013.
Following on from the hard top's successful facelift, the new cabriolet sports the same slim lines and refreshed styling.
New trim levels
The cab follows the established Beetle, Design and Sport trims but also adds interesting specs in the form of 50's, 60's and 70's editions. All models feature an electric folding roof which opens in just 11 seconds and closes in a mere 9.5. This can be achieved on the move, up to 31mph. A tonneau cover is supplied to tidy things up once you've dropped the top.
50's Edition
The 50's is based on the Design trim and features -
1.4 TSi 160ps engine
Black exterior paint work
17" black 'Orbit' alloys
'Vienna' leather in Salsa red/black or Nutria beige
50's badge detailing on the front wings
Front and rear parking sensors
Multi device interface (iPod/USB connection)
Gloss black dash facia
RCD 510 touch screen DAB radio with the Fender premium sound pack
60's Edition
The 60's model is based on the Sport trim line and has -
1.4 TSi 160ps engine
Candy white or Denim blue paint
18" 'Twister' alloys
'Vienna' leather in Salsa red/black or Atlantic blue/black
60's badges on the wings
Front and rear parking sensors
Multi Device Interface (MDI)
Matching dash colour to exterior paint
RCD 510 DAB touch screen radio
70's Edition
Finally, the 70's model is based on the Design trim line and has -
1.4 TSi 160ps engine
'Java' exterior paint with a Nutria beige electric roof
18" 'Discus' alloy wheels
Chrome wing mirror cases
'Vienna' leather interior in Nutria beige
70's wing detail badges
Front and rear parking sensors
MDI
Dash in Java to match exterior
RCD 510 DAB touch screen radio
Pricing from launch in Spring 2013

| | | | |
| --- | --- | --- | --- |
| Model/Trim level | Engine | Co2 g/km | On The Road £ |
| Beetle | 1.2 105ps TSi | 142 | 18150.00 |
| Beetle | 1.6 105ps BMT | 118 | 19970.00 |
| Design | 1.2 105ps TSi | 142 | 20525.00 |
| Design | 1.2 105ps TSi DSG | 139 | 21970.00 |
| Design | 1.4 160ps | 158 | 22410.00 |
| Design | 1.6 105ps BMT | 118 | 22040.00 |
| Design | 1.6 105ps BMT DSG | 119 | 23500.00 |
| Design | 2.0 TDi | 134 | 23140.00 |
| Design | 2.0 TDi DSG | 145 | 24630.00 |
| Sport | 1.4 TSi 160ps | 158 | 24050.00 |
| Sport | 2.0 TDi | 134 | 24780.00 |
| Sport | 2.0 TDi DSG | 145 | 26270.00 |
| Sport | 2.0 TSi 200ps | 174 | 24970.00 |
| Sport | 2.0 TSi 200ps DSG | 180 | 26480.00 |
| 50s | 1.4 160ps | 158 | 24655.00 |
| 60s | 1.4 160ps | 158 | 25875.00 |
| 70s | 1.4 160ps | 158 | 24450.00 |
Please note that some images may not represent UK spec
Whilst vwgenuineparts.co.uk has researched the facts to the best of its ability, the opinions expressed in this article represent those of individual writers and unless clearly stated as such do not represent the opinions or policies of vwgenuineparts.co.uk. No claims are made or responsibilities assumed for the contents of externally linked websites. Unless otherwise stated, all contents are copyright ©